繞圈
・文字、鉛筆素描、數位輸出、貼紙、照片、紙張、 純棉藝術紙 、木作
・ 尺寸依場地調整
・2022
・人與植物到居住,圍繞在山的敘事,以及組成它的幾種描述。

從一個箱體開始,把它以為是床,看成一個家,也當作一座溫室,在生活、聚集、移動與居住中聯想。掀開蚊帳的紗簾,貌似是房屋的立面,又像徒入山林的車箱,在空間裡人與植物或躺或臥,箱內像是岔口交換著故事。

沿著台18 線、台21 線或阿里山林鐵上山,經熱帶與溫帶,處在回歸線的氣候帶,環狀的線徑使人聯想線上的不同地方,23.5 度的紀念標誌連成一線,因相似的氣候條件而產生關聯;緯線是線條、山徑像是繩結,互有交疊又繞行成迴圈,路徑的交疊與緯線的節點,世界好像因共有的集合偶然碰面。
Circle Round
・Writing、Sketch、Digital print、paper、 Hahnemühle Photo Rag、Pictures、Board
・ Variable dimensions
・2022
・From humans, plants, to dwelling, this work revolves around the narrative ofmountains and its component descriptions.

The work starts with a box, which can be viewed as a bed, a home, or even a greenhouse, bringing together associations with living, gathering, moving, and dwelling. Opening the curtain of mosquito nets, what appears is like the façade of a house, or a train car that goes into the mountains. In this space, people can lie down, and plants are laid on the floor. The space functions as an intersecting point where stories are exchanged.

Following the Provincial Highway No. 18, No. 21, or the Alishan Forest Railway to enter the mountains, one journeys from the tropical zone to the temperate zone.In this climate zone situated on the Tropic of Cancer, the circle – a line marking the latitude 23.5 degree north – connects different places, which are associated together due to similar climatic conditions. On the latitude lines, mountain trails are like rope knots, overlapping while forming numerous circles. Through these overlapping routes and knots on the latitude lines, random encounters in the world seem to take place through their shared intersections.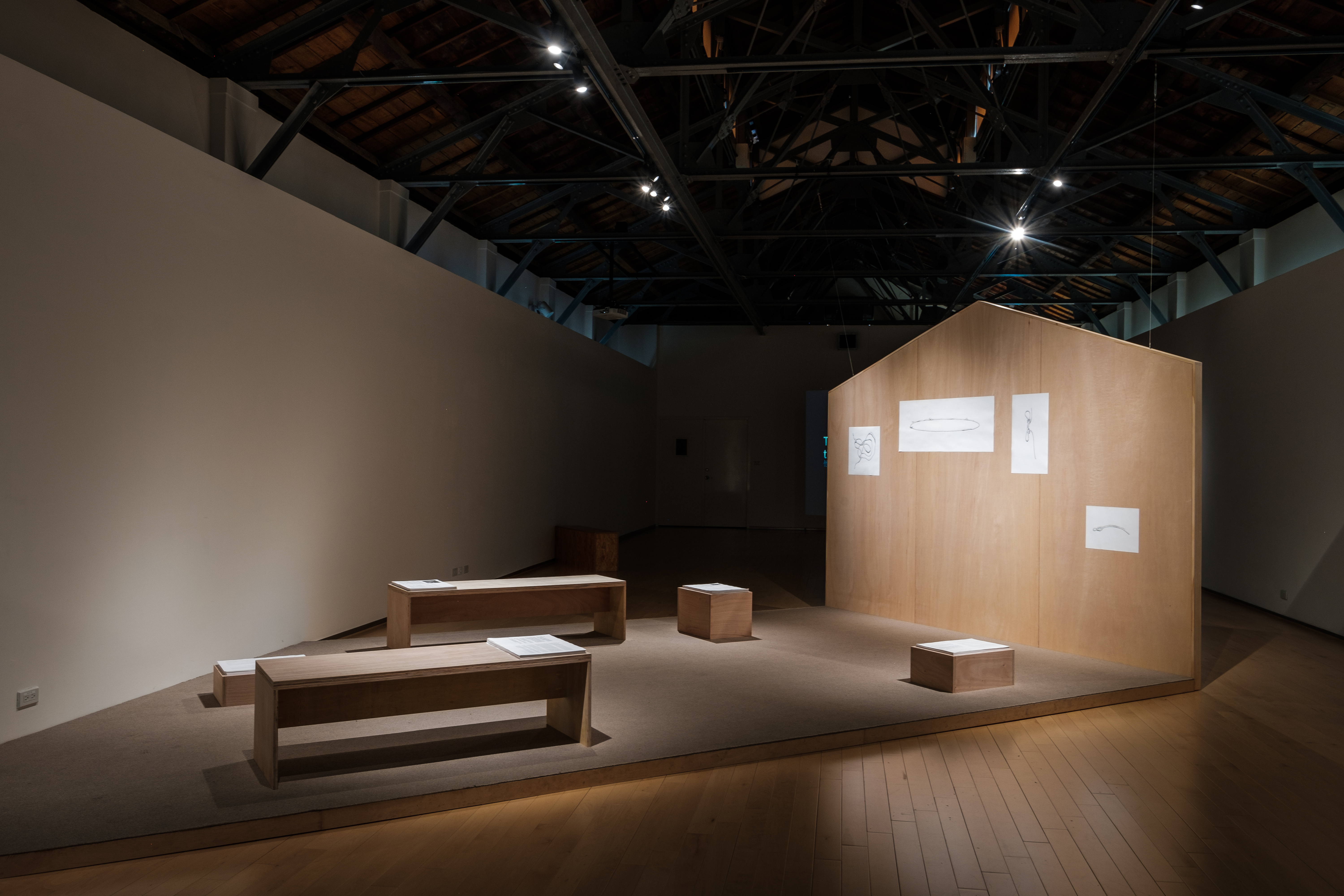 溫室
・文字、鉛筆素描、照片、紙張

・紙張雙面印刷、尺寸依場地調整

・2022

greenhouse
・Writing、Sketch、Pictures、Paper

・Double-sided printing、Variable dimensions

・2022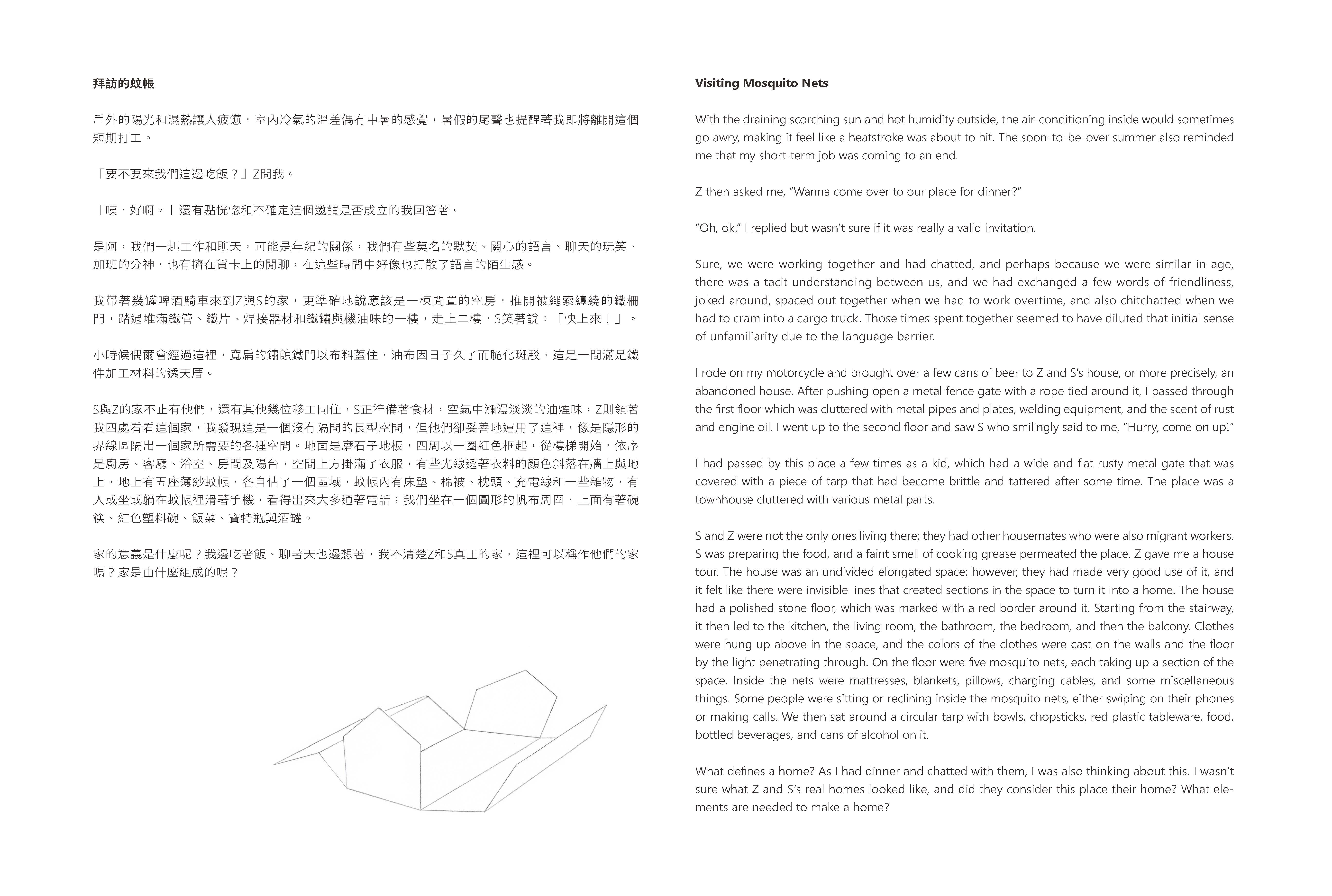 居所
・鉛筆素描、數位印刷、純棉藝術紙

・85x120公分

・2022


・Sketch、Digital print、 Hahnemühle Photo Rag

・85x120cm

・2022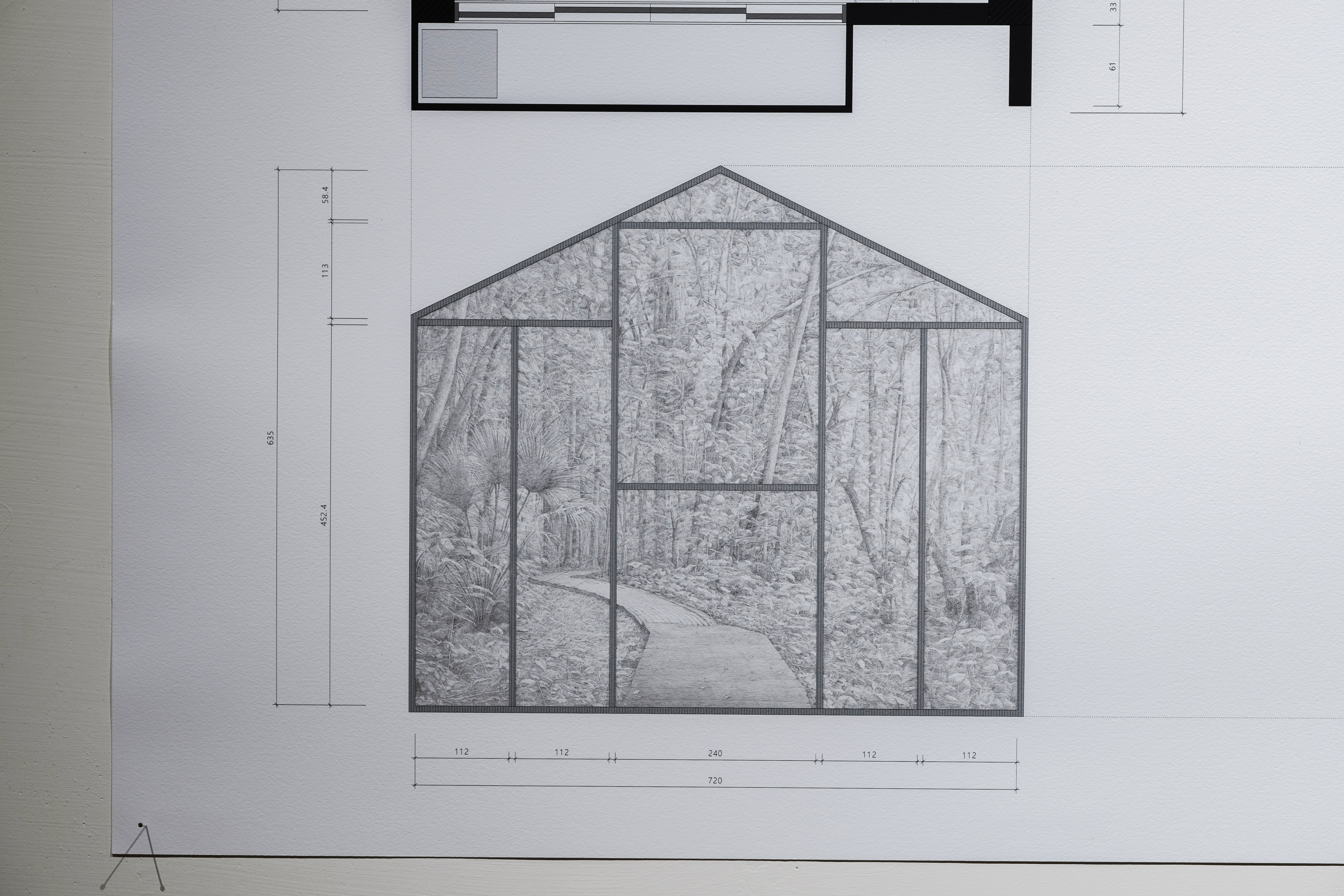 路徑
・鉛筆素描、紙張

・ 35x35、35x110、35x55、35x25 公分

・2022
K


・Sketch、Paper

・35x35、35x110、35x55、35x25cm

・2022


棉被
・數位輸出、棉紙

・ 350x270 、48x36公分

・2022


Duvet
・Digital print、 Photo Rag

・350x270 、48x36cm

・2022